Fluffhead strain is a hybrid created by The Bank Cannabis Genetics, located in Colorado. Fluffhead is 75% indica and 25% sativa. This bold flower packs a punch with a high THC content (16 – 24%) and a diesel flavor. For those of you with a seasoned cannabis palate, you might notice some earthy tones and a hint of lemon flavors.
‌
The Fluffhead Experience
Thanks to its powerhouse parents, Fluffhead strain creates an experience that is great for socializing. Due to its cerebral effects, it can interfere with any tasks you have planned unless those plans are just hanging out at home or with friends.
‌
Fluffhead can be smoked using a bong, pipe, or joint. However, it can be an expensive and strong bud. Also, Fluffhead is a rare strain that can be difficult to find. A large bong hit with Fluffhead can cause an overwhelming high. Whereas, a joint can waste some of that rare and expensive bud. We recommend using a pipe to enjoy this potent strain.
‌
To experience everything Fluffhead has to offer, take a slow hit. On the inhale you'll be able to enjoy the earthy, lemon flavors derived from its terpineol and limonene terpenes. On the exhale, you'll taste the musky, sour diesel from the myrcene and humulene terpenes.
‌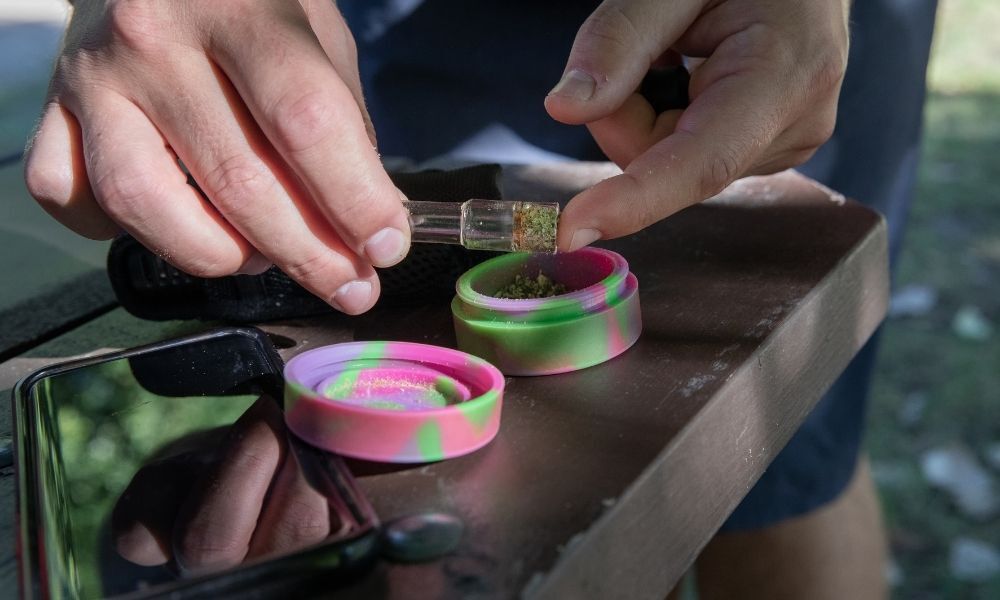 Fluffhead Benefits
Some users suggest Fluffhead is great for relieving conditions such as:
Mood swings
Chronic fatigue
Depression
Stress
Pain

Growing this strain
Flowering time for Fluffhead is a little longer than average at 63 to 67 days. The plant usually grows to a slightly above average height. It grows well outdoors in Colorado climates. California growers will need to produce this plant using a climate-controlled indoor facility.
‌
This hybrid strain is created by using a Headband flower and Phishead Kush. It is appropriately named "Fluffhead" because the buds are extremely fluffy and heart-shaped. Its beautiful buds are rich in colors. The bugs are dark green with blue undertones, bright orange hairs, and sticky white crystal trichomes.
‌
Headband
Headband is a hybrid strain created by crossing Master Kush and Hindu Kush and is the mother of Fluffhead. The strain gets its diesel and lemon flavors from its Headband mother. Headband is known to be a smooth strain that's great for relaxing, relieving stress, and pain relief.
‌
Phishhead Kush
Phishhead Kush is a hybrid strain created by crossing OG Kush with Lowland Afghani and is the pollen donor for Fluffhead. The earthy tones in Fluffhead come from the Phishhead strain. It also inherits its relaxing effects and pain relief effects from this strain.
‌
Ready to Try Fluffhead?
If you're looking for a flower to create a relaxed but not sleepy feeling, then Fluffhead strain might be for you. This flower won't make you couch-locked. It is great for someone wanting to socialize and chat. Many users report feeling happy, talkative, and relaxed.
‌
Keep in mind, everyone has different body chemistries and will experience different effects. It might make your friends chatty and you sleepy. Always make sure you're in a safe place when trying a new cannabis strain.